Massey invited back to world's preeminent energy conference to answer questions about an unexpected first wave of vehicle electrification
RALEIGH, NC – Mar. 1, 2023 – Jason Massey, Founder and CEO at Ndustrial, has once again been invited to speak at CERAWeek, the world's preeminent energy conference.
CERAWeek is a gathering of global leaders from across the energy industry. Other notable speakers include U.S. Energy Secretary Jennifer Granholm and the CEOs of most major energy companies, among many others.
Massey will be speaking in the Agora track about supply chain decarbonization and the roles that facility owners and fleet owners can play in driving down Energy Intensity, reducing costs and increasing sustainable operations. The Agora portion of the conference is dedicated to showcasing energy innovations.
Massey will specifically be addressing an unexpected first wave of vehicle electrification driven by Transport Refrigeration Units, otherwise known as TRUs or "reefers," which distribute cold food and other refrigerated products throughout the world.
"There are a lot of questions about eTRUs," says Massey. "How will sites manage the new load? Can they charge truck owners for it? Can anyone claim carbon credits? We'll dive into the regulations that are driving the change and the technology that'll be needed to manage it and to drive down Energy Intensity."
Massey will be speaking in an Agora Pod session on March 6, 2023 at 1pm Central Time. Agora Pods are presentations from leading innovators and thought leaders in the energy ecosystem.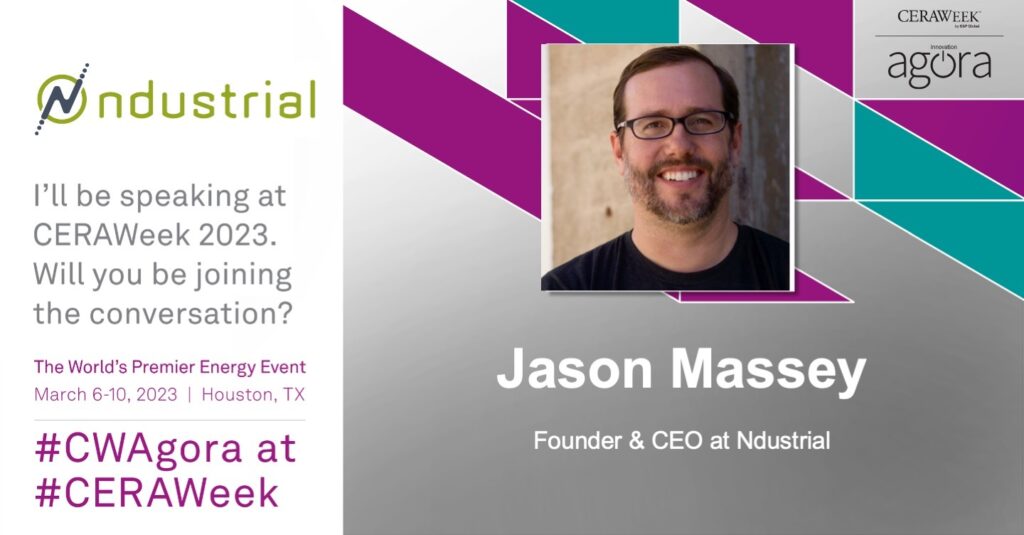 About Ndustrial
Ndustrial exists to accelerate the optimization of Energy Intensity in industrial facilities and has helped avoid over $100 million in energy spend. Their production-first approach helps clients find – and automate – the energy-saving opportunities that make sense for them. Their Energy Intensity platform integrates over 40 different systems into a single view, processing over 100 million data points every day to enable smarter energy decisions in real time. Ndustrial's motto, "We help you find energy," focuses the team to drive down Energy Intensity, decrease costs and increase sustainable operations inside the walls of every industrial facility. Learn more at ndustrial.io.
About CERAWeek
CERAWeek brings together global leaders to advance new ideas, insight and solutions to the biggest challenges facing the future of energy, the environment, and climate. CERAWeek is widely considered to be the most prestigious annual gathering of CEOs and Ministers from global energy and utilities, as well as automotive, manufacturing, policy and financial communities, along with a growing presence of tech. It has been described by the Financial Times as 'the Davos of energy,' and by Politico as the "industry's Super Bowl." CNBC called it "the world's preeminent energy conference." CERAWeek was rated one of the top five overall "corporate leader" conferences in the world. Learn more at ceraweek.com.