GCCA and Ndustrial present top energy management tips for refrigerated plants, warehouses and cross-docks
On October 24, Ndustrial and the Global Cold Chain Alliance will co-host a webinar on the top energy management best practices for refrigerated operations.
Ndustrial Co-Founder and SVP of Energy & IoT Solutions Charles Tuck will share his biggest lessons learned from deploying hardware and software at hundreds of cold chain facilities around the world.
From ISO 50001 to blast freezing optimization and automated controls, participants will hear real-world examples of how refrigerated facilities are driving down energy intensity and carbon emissions.
The session will also include a primer on key regulations driving change in the industry such as California's rapid phase-out of diesel Transport Refrigeration Units and how leading companies are preparing.
The webinar will take place at 1pm EDT on October 24.

Learn more: www.gcca.org/event/gcca-webinar-top-10-energy-best-practices-for-cold-chain-facilities/
Register now: events.blackthorn.io/en/8b2Beaf7/top-10-energy-best-practices-for-cold-chain-facilities-5a1O8b7CTzN/overview
See Ndustrial's solution suite for the cold chain: info.ndustrial.io/en-us/cold-os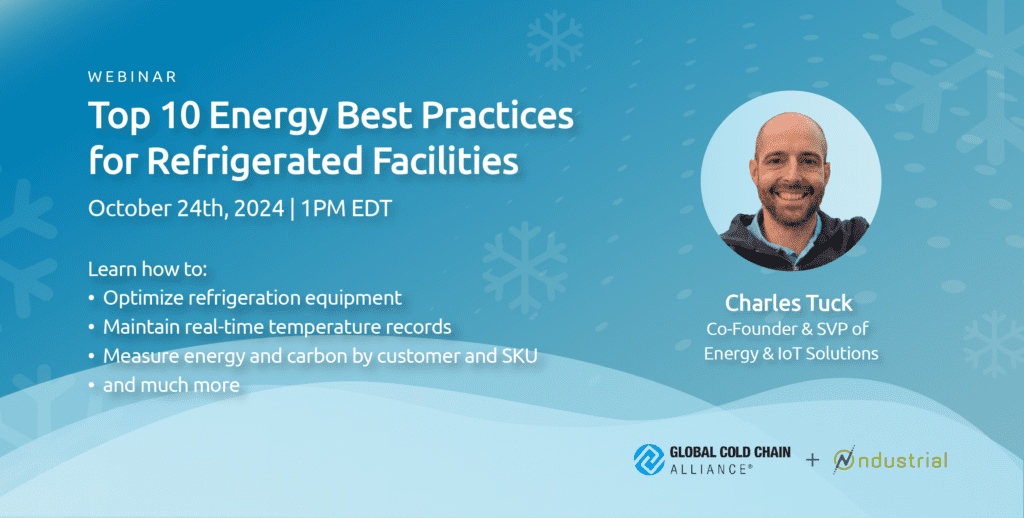 About Ndustrial
Ndustrial is the world leader in cold chain energy management. With over 400 cold chain facilities under monitoring, Ndustrial provides real-time data and tailored suggestions for driving down operating costs and accelerating decarbonization in frozen and refrigerated operations – while maintaining food safety and throughput. From real-time temperature mapping to automated COP and blast freezing optimization, facilities can now digitize their approach to energy management, emissions reductions, and food safety. Named among the World's Top 100 Energy & Climate Tech Startups, Ndustrial helps accelerate efficiency and drive out waste. Learn more at ndustrial.io.
About GCCA
The Global Cold Chain Alliance (GCCA) represents all major industries engaged in temperature-controlled warehousing, logistics and transportation. GCCA unites all partners to be innovative leaders in the movement of perishable products globally. Learn more at gcca.org.