Hourly carbon data partnership between Ndustrial and WattTime allows companies to drive authentic emissions reductions
RALEIGH, NC AND OAKLAND, CA – March. 14, 2023 – Ndustrial has announced it is incorporating hourly carbon emissions data from WattTime into its Nsight™ Energy Intensity Platform to enable smarter emissions decisions for its industrial customer base.
"Most companies measure their greenhouse gas emissions on an annual basis," says Ndustrial's Founder and CEO Jason Massey, "but that doesn't account for the fact that using electricity can have vastly different emissions impacts at different times of day. Our platform will now highlight these variations."
Marginal emissions data measures the real-world consequences of consuming electricity at a certain time and location within an ever-changing power grid. Availability of hourly marginal carbon emissions data for local electricity grids around the world now allows companies to achieve bigger carbon reductions and better quantify the emissions impacts of their actions.
Ndustrial helps businesses drive down Energy Intensity, reduce energy costs and increase sustainable operations. One way customers drive down energy spend is by responding to Nsight's real-time suggestions to avoid critical peak periods via peak avoidance algorithms and demand response signals.
Through the partnership with WattTime, Ndustrial's Nsight™ Energy Intensity Platform can now incorporate estimates of the avoided carbon emissions expected from various operational suggestions. During peak periods of demand on the grid, for example, users may see substantial cost savings as well as carbon emissions savings from curtailing or shifting the time of their energy use. All of this can be scheduled hours in advance, with a 72-hour forecast of emissions rates.
In addition to the operational insights enabled by hourly marginal emissions rates, Nsight will use hourly average emissions rates for more granular Scope 2 emissions accounting. The most commonly used emissions accounting approach relies on an annual emissions rate from the EPA that is almost two years stale by the time it is published. Nsight will provide an emissions accounting option that is up to date throughout the year, is no more than a few days old, and shows variation throughout the day.
Many leading companies are leveraging marginal emissions data from WattTime to accelerate the electric grid's transition to zero carbon. WattTime is an environmental tech nonprofit founded by UC Berkeley researchers to increase environmental and social good. Through this partnership, Ndustrial and WattTime will empower a new and large portion of the industrial sector to make faster climate progress.
"Industrial companies are some of the biggest consumers of electricity out there, so they have a huge opportunity to help bring down global emissions simply by making smart choices about when they use that power," said Gavin McCormick, founder and executive director of WattTime. "This partnership with Ndustrial is an exciting opportunity for us to help their sizable client base bring down global emissions at scale, fast."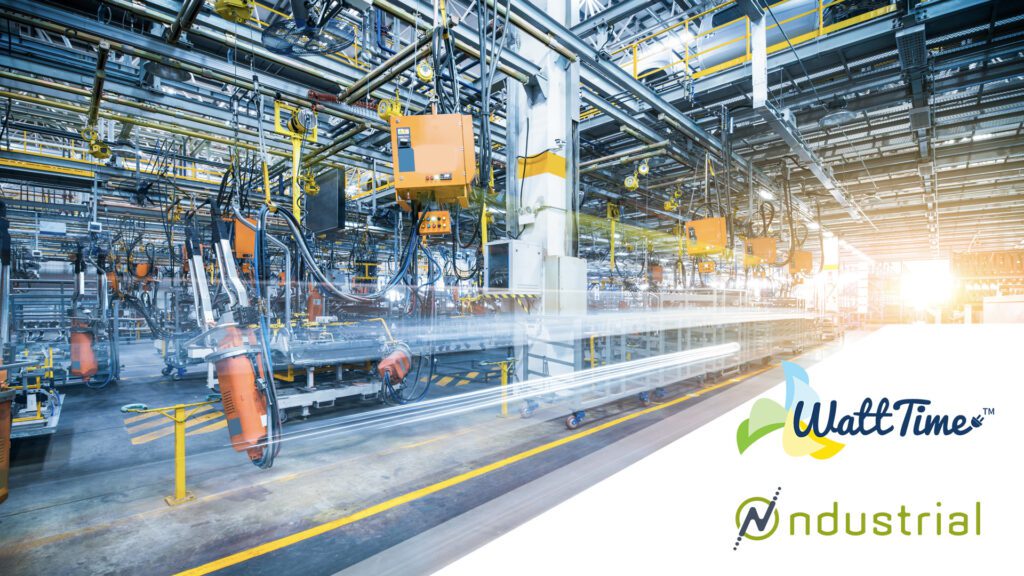 ###
About Ndustrial
Ndustrial exists to accelerate the optimization of Energy Intensity in industrial facilities and has helped avoid over $100 million in energy spend. Their production-first approach helps clients find – and automate – the energy-saving opportunities that make sense for them. Their Energy Intensity platform integrates over 40 different systems into a single view, processing over 100 million data points every day to enable smarter energy decisions in real time. Ndustrial's motto, "We help you find energy," focuses the team to drive down Energy Intensity, decrease costs and increase sustainable operations inside the walls of every industrial facility. Learn more at ndustrial.io.
About WattTime
WattTime is an environmental tech nonprofit that empowers all people, companies, policymakers, and countries to slash emissions and choose cleaner energy. Founded by UC Berkeley researchers, we develop data-driven tools and policies that increase environmental and social good. During the energy transition from a fossil-fueled past to a zero-carbon future, WattTime 'bends the curve' of emissions reductions to realize deeper, faster benefits for people and planet. Learn more at www.WattTime.org.