Frozen and refrigerated food manufacturers have a new set of tools for driving down energy costs, water usage and carbon emissions.
RALEIGH, NC – Aug. 30, 2023 – Ndustrial has joined the National Frozen and Refrigerated Foods Association (NFRA) to empower food producers to:
Maintain food safety with real-time temperature mapping and alerting
Understand energy and water for production, sanitation and logistics
Optimize Coefficient of Performance and more with Refrigeration Control System integrations for all major brands
"We're creating a flywheel effect for food producers," says Jason Massey, Founder and CEO at Ndustrial. "The data and suggestions we provide are specific to the industry, and they're immediately actionable. And the savings from one project help fuel new initiatives."
With 400+ refrigerated facilities under monitoring, Ndustrial is the world leader in cold chain energy management and digitization. With holistic data and real-time suggestions for refrigerated plants, food producers can systematically measure and reduce electricity, gas, water and carbon by SKU.
Food and beverage manufacturing is one of the most emissions-intensive industries in the U.S., accounting for roughly 6% of total industrial emissions. It is also one of the sectors with the widest-ranging opportunities to decarbonize.
Ndustrial will be a sponsor of the NFRA Convention October 7-10, 2023 in San Diego. Contact busdev@ndustrial.io to discuss best practices for driving down operating costs and carbon emissions in frozen and refrigerated plants.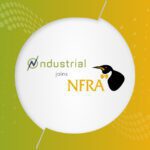 About Ndustrial
Ndustrial is the world leader in cold chain energy and water management. With over 400 cold chain facilities under monitoring, Ndustrial provides real-time data and tailored suggestions for driving down operating costs and accelerating decarbonization in frozen and refrigerated plants – while maintaining food safety and throughput. From real-time temperature mapping to automated COP and blast freezing optimization, facilities can now digitize their approach to resource management, emissions reductions, and food safety. Named among the World's Top 100 Energy & Climate Tech Startups, Ndustrial helps accelerate efficiency and drive out waste. Learn more at ndustrial.io.