Nsight users can now receive tailored cost-saving suggestions for industrial facilities – and automate their response
RALEIGH, NC – July 18, 2023 – Ndustrial today announced the launch of its Optimize module, which provides customized energy-saving suggestions for industrial facilities in real time.
Users of the Nsight™ Energy Intensity Platform can now receive energy suggestions and take action to help reduce costs, improve energy intensity, and reduce carbon. The platform can also automate these suggestions by integrating with industrial control systems so recommended actions are taken with a simple approval.
An example of an energy suggestion would be to temporarily curtail specific industrial processes or equipment to avoid high electric rates. Suggestions can also involve programs like Demand Response and avoidance of peak demand charges including Coincident Peak programs like ERCOT 4CP or PJM 5CP.
"Traditional energy management systems don't help industrial facilities take action to reduce energy costs," says Joe Stevens, VP of Product at Ndustrial. "Our approach is unique to help managers of industrial facilities drive action. We help them operationalize energy suggestions by making it clear who is taking action and how their facilities are performing. I'm proud of our team for making this possible for our industrial clients."
Nsight is a holistic energy intensity platform tailor-made for industrial facilities. By combining production data with energy data, operators can find the energy-saving opportunities that make sense for them. The new Optimize module makes it even easier to identify savings by proactively notifying them of relevant suggestions and quantifying the impact.
Energy management for industrial facilities is far more complex than for commercial buildings and therefore requires a different approach. Software that provides proactive suggestions helps companies move from passive monitoring to a more tailored and action-oriented approach.
Learn more about the Nsight Energy Intensity Platform and the Optimize module at https://ndustrial.io/resources/.
Contact busdev@ndustrial.io for further information.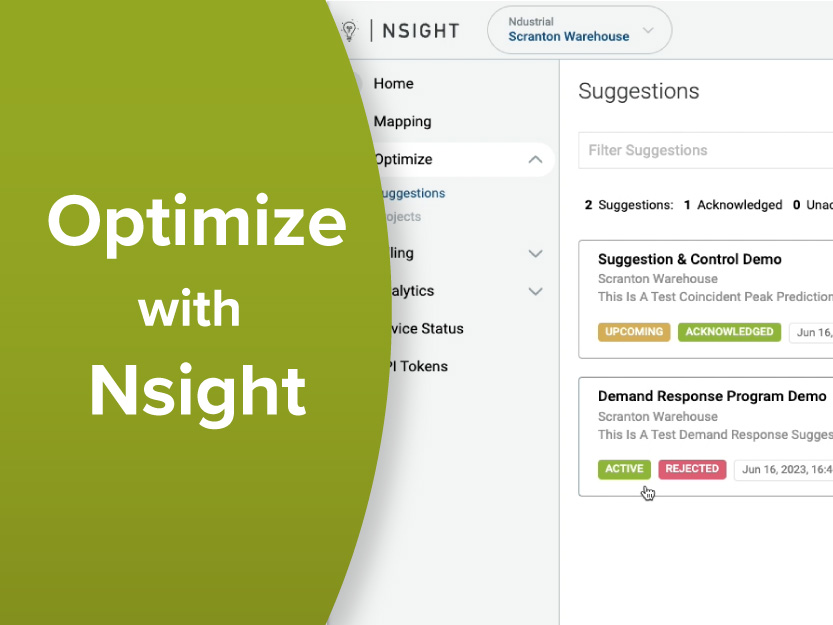 About Ndustrial
Ndustrial exists to accelerate the optimization of Energy Intensity in industrial facilities and has helped avoid over $100 million in energy spend. Their production-first approach helps clients find – and automate – the energy-saving opportunities that make sense for them. Their Energy Intensity platform integrates over 40 different systems into a single view, processing over 100 million data points every day to enable smarter energy decisions in real time. Ndustrial's motto, "We help you find energy," focuses the team to drive down Energy Intensity, decrease costs and increase sustainable operations inside the walls of every industrial facility. Learn more at ndustrial.io.