eTRUs are poised to help decarbonize the supply chain
All eyes are on vehicle electrification, but a first wave of change in the logistics industry is happening behind the scenes: the electrification of Transport Refrigeration Units, or TRUs.
Led by California regulations, TRUs are poised to electrify much more quickly than other pieces of the logistics puzzle. This gives both fleet and facility owners unique roles to play in helping drive down energy costs and emissions throughout the cold chain.
Doing so, however, is not as simple as buying new equipment.
TRUs are an often-overlooked source of costs and emissions in the supply chain
Many goods must remain carefully temperature-controlled at every step of their journey, from rail to highway to loading dock. TRUs are the refrigeration units that keep these goods cold throughout the world. This requires a lot of energy.
Often known as "reefers," refrigerated truck trailers traditionally run on diesel. A generator attached to the trailer typically powers a refrigeration system that maintains the cargo's temperature at all times, whether it's in motion or not. Reefers burn roughly 0.8 gallons of diesel fuel per hour, even while idling. This comes with significant costs and carbon emissions.
Refrigerated warehouses and even grocery stores with significant TRU activity can cause increased cancer risk for nearby residents, according to the California Air Resources Board. In areas like the Central Valley where cold storage facilities are clustered, the risk increases exponentially.
eTRUs will help drive supply chain decarbonization
Electric TRUs are cleaner and more efficient to operate because they eliminate the generator's particulate emissions and wasted heat. eTRUs come in several forms, from all-electric to hybrid to standby.
All-electric eTRUs face many of the same infrastructure barriers that electric vehicles face, but hybrid and standby versions have a unique configuration: they still use diesel in transit, but they can plug in while loading and unloading.
This means facility owners can be a big part of the solution. By providing "shore power" services, facilities like cold storage warehouses and distribution centers can help drive down energy intensity, reduce costs, and increase sustainable operations in the supply chain.
Because these facilities are already grid-connected, they can provide this service with minimal infrastructure investment. And if managed effectively, they can handle the new load without causing excessive strain on the grid.
eTRU infrastructure, however, is not just wires and transformers. To effectively manage eTRU loads, a much deeper technology stack is needed.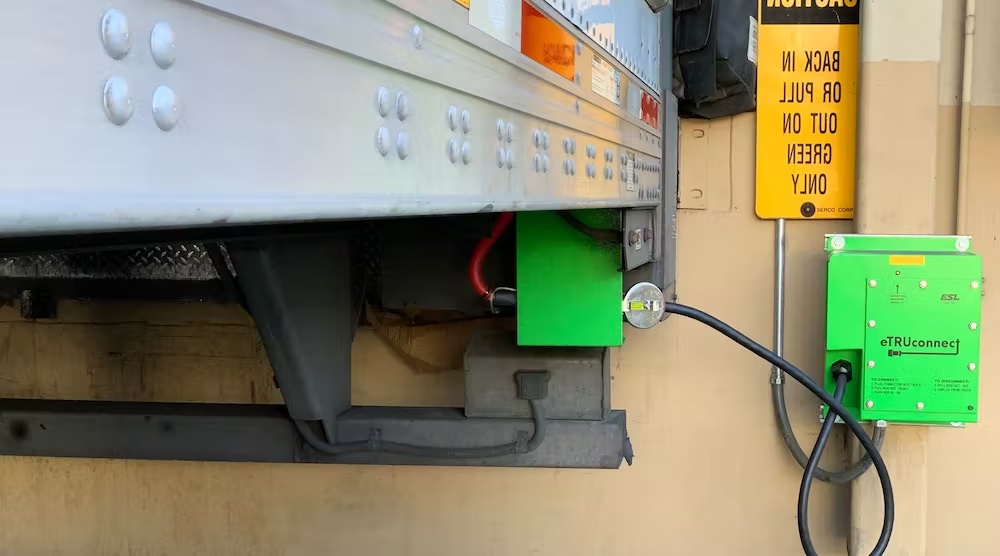 eTRU management requires a new technology paradigm for facilities
The transition to eTRUs is not just about infrastructure. It's about managing this new resource in a way that drives down energy intensity, reduces costs and increases sustainable operations.
In fact, with the right technology, facilities can also generate new revenue by providing eTRU shore power as a service to carriers. This raises some interesting questions:
How will sites manage the new load?
How can they charge truck owners for it?
Can anyone claim carbon credits?
To manage the new load, facilities will need to monitor truck presence and plug status for each dock. This will require an IoT-based monitoring system with real-time data. Sites may also need tools and strategies for avoiding excessive demand charges from their electric utility.
To charge for the power consumed without adding excessive administrative burden, facilities will need revenue-grade submetering, and they will also need to integrate their energy data with Warehouse Management Systems. This allows sites to track power consumption by customer and invoice them accordingly.
Finally, as haulers electrify their TRU fleet, they may be able to claim carbon credits. It may also be possible for facilities to purchase these credits, perhaps in exchange for the power provided. This remains an open question, but it's clear that granular carbon data will be needed in any scenario – specifically real-time or hourly data from the grid, rather than annualized carbon factors.
In short, eTRUs require a new way of thinking about energy management. Specifically, four distinct elements will need to be integrated:
eTRU infrastructure
Warehouse Management Systems
Revenue-grade energy metering
Real-time carbon data
Few solution providers can do all this, so companies will need to decide whether to find a platform that can integrate these functions holistically, or to build such a system themselves.
California's eTRU regulations will continue to spur action and innovation in this sector
California has mandated that by the end of 2023, truck TRU owners must begin replacing 15% of their fleet each year with Zero Emissions models. This will continue through the end of 2029, by which time all truck TRUs must be converted. This applies to all trucks operating in California, regardless of origin.
Pandemic-fueled demand and high shipping costs mean that 70,000 new reefers are being purchased each year in the US, so all these will need to be electrified by 2030 as well. And in the interim, any new non-electric TRUs must also meet stringent new emissions and refrigerant standards.
Fleet owners are not the only ones affected. Owners of refrigerated warehouses and distribution centers with building sizes of 20,000 square feet or more will be required to report all TRUs operating at their facility to the state. This will require a new level of visibility into their suppliers.
The same is true for grocery stores with 15,000 square feet or more, as well as seaport facilities and intermodal railyards. Additionally, eTRU manufacturers will be required to provide comprehensive warranties and to have an authorized service-and-repair facility located in California.
12 other states are currently poised to follow California's lead, and that list may grow. Together, these regulations will drive a step-change in eTRU adoption in the US, which will in turn require that both fleets and facilities rethink their approach to energy management.