TCS' GCCA recognition demonstrates a culture of energy excellence at Ontario facility
QUINTE WEST, ON AND RALEIGH, NC – Apr. 26, 2023 – With help from Ndustrial, the leading energy management solutions provider in the cold chain, Trenton Cold Storage has achieved Gold Level status under the Global Cold Chain Alliance (GCCA) Energy Excellence Recognition Program.
Trenton Cold Storage (TCS) is a leading temperature-controlled warehousing and logistics company. Their achievement recognizes the culture of energy excellence at their Quinte West facility, with the goal of expanding to additional facilities in the area to build on this significant milestone in the industry.
"All of us at TCS are inspired by our teammates' commitment and focus to reducing our environmental impact," says Eben James Jr., CEO and President of Trenton Cold Storage. "Our teammates drive our mission of building sustainable supply chain and infrastructure solutions, to deliver superior quality products and services globally. I am grateful each day to work with such a motivated, caring and forward-thinking group of people."
The GCCA Energy Excellence Recognition Program awards temperature-controlled warehouse operators for outstanding energy management efforts, with Gold Level being the second highest level of recognition. The highest is Platinum, which is achieved after 3 years of consecutive Gold Level status.
"GCCA is excited to welcome Trenton Cold Storage into the Energy Excellence program," states Matt Ott, President & CEO for the Global Cold Chain Alliance (GCCA). "With energy being a significant expense category for controlled environment warehouses it is important to recognize members exhibiting their dedication to energy efficient warehouse operations within the cold chain. Also, the Energy Excellence designation affords members the ability to communicate their facility's progress in meeting sustainability objectives to their customers."
Ndustrial, creator of the Nsight™ Energy Intensity Platform helped TCS achieve Gold Level status by analyzing two years of electricity usage data and helping create a culture of energy intelligence. Energy costs are a high priority for temperature-controlled 3PL operators, so managing electricity usage can have substantial impacts not only on carbon emissions, but on companies' bottom line.
"We're really proud to have worked with TCS on this," says Charles Tuck, Co-Founder and VP of Energy and IoT Solutions at Ndustrial. "They have shown an amazing appetite for tackling energy usage, and we're very excited to continue working with them to certify more facilities."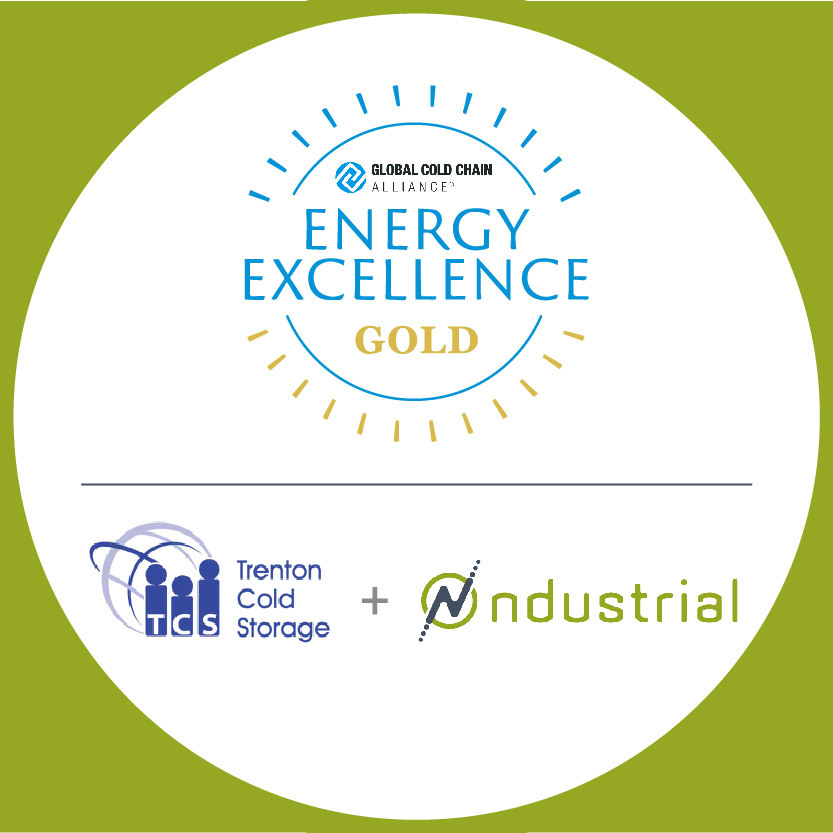 About Trenton Cold Storage
For over 120 years, Trenton Cold Storage (TCS) has been at the forefront of the temperature-controlled warehousing and distribution industry. They provide Canada with more than 34,000,000 cubic feet of cold storage and refrigerated warehouse space in Ontario and Alberta. As one of the top temperature-controlled providers in North America, they offer a wide variety of supply chain solutions and services. Trenton Cold Storage facilities are an integral part of the supply chain connecting food to families around the world. Learn more at trentoncoldstorage.com.
About the Global Cold Chain Alliance
The Global Cold Chain Alliance (GCCA) represents all major industries engaged in temperature-controlled warehousing, logistics and transportation. GCCA unites all partners to be innovative leaders in the movement of perishable products globally. Learn more at gcca.org.
About Ndustrial
Ndustrial exists to accelerate the optimization of Energy Intensity in industrial facilities and has helped avoid over $100 million in energy spend. Their production-first approach helps clients find – and automate – the energy-saving opportunities that make sense for them. Their Energy Intensity platform integrates over 40 different systems into a single view, processing over 100 million data points every day to enable smarter energy decisions in real time. Ndustrial's motto, "We help you find energy," focuses the team to drive down Energy Intensity, decrease costs and increase sustainable operations inside the walls of every industrial facility. Learn more at ndustrial.io.