Ndustrial Co-Founder & CTO honored for outstanding contributions to energy technology
RALEIGH, NC – Nov. 20, 2023 – Ndustrial Co-Founder and CTO John Crawford was named the 2023 North Carolina Cleantech Entrepreneur of the Year. Crawford was honored by the Research Triangle Cleantech Cluster for his outstanding contributions to advancing the state's clean energy technology economy. 
The award recognizes an individual who has demonstrated innovation through the development of new technology that has the potential to disrupt traditional industries, create a cleaner planet, and improve the quality of life for people here in North Carolina and around the world.
At a young age, John has not only racked up numerous patents; he has also put his innovations to work at a massive scale. He developed several groundbreaking technologies that have helped drive down energy intensity in the industrial sector.
Most recently, John developed a suggestions and control framework that helps users analyze, optimize, and automatically control their most energy-intensive processes. Unlike traditional energy management systems that simply allow users to monitor their consumption, John's approach recommends specific actions for each facility in real time, complete with instant savings estimates and the ability to automate optimal actions.
Thanks in large part to John's work, Ndustrial was recently named among the Top 100 energy transition startups in the world. John was also named one of the Top 50 Environment and Energy Leaders of 2022 as well as a Rock Star of the Supply Chain for outstanding contributions to the global cold food supply chain.
"Having worked with lots of startups and founders during my time in Silicon Valley, I can say without a doubt that John is the most customer-centric CTO I've ever worked with," says Ndustrial Founder & CEO Jason Massey. "I've known John since he was at NCSU where his grit, perseverance and passion for energy was as present as it is today, so it's great to see him recognized for all his behind-the-scenes contributions!"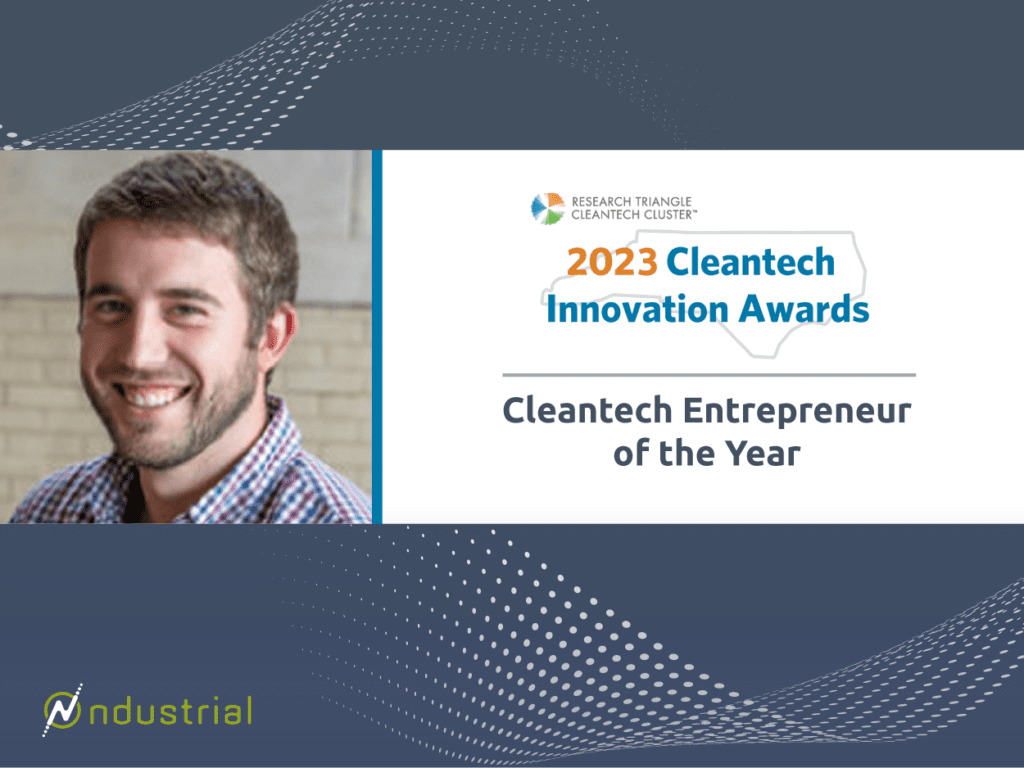 About Ndustrial
Ndustrial exists to accelerate the optimization of Energy Intensity in industrial facilities and has helped avoid over $100 million in energy spend. Their production-first approach helps clients find – and automate – the energy-saving opportunities that make sense for them. Their Energy Intensity platform integrates over 60 different systems into a single view to enable smarter energy decisions in real time. Ndustrial was named one of the World's Top 100 Energy & Climate Tech startups for their work to drive down Energy Intensity, decrease costs and increase sustainable operations inside the walls of every industrial facility. Learn more at ndustrial.io.
About Research Triangle Cleantech Cluster (RTCC)
The mission of the Research Triangle Cleantech Cluster (RTCC) is to accelerate growth and leadership of the cleantech economy, leveraging the unique concentration of industry, academic, and government leaders in the Research Triangle to create benefits through innovation, deployment, and talent in the region, North Carolina, and beyond. Learn more at researchtrianglecleantech.org.